GoodTurn Cycles Team Retreat
Another season of Fall is here! The staff at GoodTurn Cycles enjoyed a mountain eBiking retreat in Nederland, Colorado to kick off the season. The leaves were changing, the weather was cooler, and the excitement levels were high. If you're wondering who the new folks at the shop are, THREE additional team members joined us over the summer. Next time you see Christian and Sarah, our Job skills Instructors or Jahze, our Shop Associate feel free to say hi! 
On our team retreat we took out a variety of eBikes including the Giant Stance, Bulls Estream Evo AM2, Bulls Estream Evo AM3, and Bulls WildFlow. Check out the bikes we rode here:
We've compiled a list of our team's favorite fall trail systems. Check them out!
ADAM
Trail system: Magnolia Trail System
MTB project: West Mag Backcountry Big Ride
Location: Nederland, CO
Length: 13 miles
Why is it Adam's favorite fall mountain biking trail? 
The West Magnolia trail system has a bit of everything and really feels like alpine mountain biking without having to go deep into the mountains. Especially during the Fall, you get great colors from the aspens and a couple big mountain overlooks! The trail itself is pretty tight singletrack winding you over rock gardens, plunging down chunky, rooty descents, and cruising through aspen meadows. Unlike a lot of the trails on the Front Range the elevation gain is spread out throughout most of the loop. It's not just one big climb and one monster descent. This is also the spot where we have our yearly GoodTurn team ride!
P.S. If you're hungry after the ride, pop into Nederland and check out some of the local eateries. I personally like Salto, so I can refuel with a burrito and a cup of coffee. 
CHRISTIAN
Trail System: Also West Magnolia!
Biking at West Mag was my first time on an eMTB, my first time at West Mag, and also one of my first times mountain biking in general, so I felt a little unsure of myself at first. I picked it up pretty quickly, thanks to the awesome GTC team encouraging me along the way, but also because the eMTB I was using (Giant Stance E+) was great and made the trail easy to ride. While I could definitely feel the assistance from the bike on the uphills, I was also surprised at how smooth the ride felt. The motor was quiet, it didn't jerk me around on turns. It felt like I was riding a normal bike, just with some help when I needed it.
When I finally got my bearings straight on the bike and felt comfortable enough to look around, I was amazed at the landscape around me – the fall foliage was starting to come through big time, and I was treated to some spectacular aspen tunnels. The views of the mountains in the distance were remarkable as well. I easily could have kept riding there all day, especially with the help from the eMTB.
The ride at West Mag made me a lot more comfortable on single track and on an eMTB, and I'm really excited to keep learning more about riding and more about bikes.

Photo credit: https://www.mtbproject.com/photo/7013837
NEAL
Trail system: Staunton State Park Loop
MTB Project: Staunton State Park Clockwise Loop 
Where: Staunton State Park (Conifer area, CO)
Length: Up to 19 miles, but it has many variations to choose from. 7-19 total miles.
Why is it Neal's favorite fall mountain biking trail?
Staunton State Park is great because you can tailor your experience to how you're feeling for the day. If I'm feeling great, I'll head to the park for a long ride (19 miles). However, you can pick some of your favorite trails and make it a shorter day as well. The terrain is varied and more up and down as opposed to straight up and straight down like on the front range. There are some beautiful views and outlooks tucked throughout the ride. Quiet area with respect between cyclists and hikers, and the park has been carefully planned out to maximize the riders experience. 
 Photo credit: https://www.mtbproject.com/photo/5361720
CHRISTINA
Trail system: Mount Falcon Park
MTB Project: Mount Falcon Park Singletrack
Where: Morrison, CO
Length: 6 – 14 miles
Why is it Christina's favorite mountain biking trail?
Mount Falcon Park is not necessarily the best trail system to view the fall colors, however it is only 20 minutes from the shop, and I can head on over after work. I love trails that are straight uphill for the first half and straight downhill for the final finish — Mount Falcon Castle Trail fits the bill. The downhill on the Castle Trail is sure to get your heart racing! Fun and flowy jumps, little drops that keep you on your toes, and an incredible view of Red Rocks Amphitheater! Since the sun goes down earlier, I'll head there after work, climb the hill, and shred down as the sun goes down with a headlamp! If I have more time, I will do the full loop and include Parmalee in my ride. Mount Falcon is great because you can also bring your ebike!
Photo credit: https://www.jeffco.us/1332/Mount-Falcon-Park
RYAN
Trail System: Apex Open Space Park
MTB Project: Apex Park Tour (Even Calendar Days)         
Where: Golden, CO   
Length: 6-8 miles
Why is it Ryan's favorite fall mountain bike trail?
Apex has both techy ascents and descents. On Even days, head down the enchanted forest for a fast, rooty, ride, and then back up Sluicebox for a hard, but rewarding climb. Once at the top, take the long, twisty, descent with plenty of rock drops and a good view of Denver. Ebikes are welcome and will even help you possibly enjoy an extra lap or two!
 Photo credit: https://www.jeffco.us/1190/Apex-Park
DAVIS
Trail System: Green Mountain
MTB Project: Green Mountain Intermediate Loop
Where: Lakewood, CO
Length: 2 miles on Rooney Valley Trail
Why is it Davis' favorite fall mountain bike trail? Take the Hayden trail up to the top of the ridge, and then link up with the Rooney Valley trail and cruise down the singletrack trail. Be sure to make it for the sunset, as the incredible views of the Denver metro area and front range mountains will be a sight to see. This trail is my favorite for the fall season because it is rather exposed, and the cooler weather allows me to ride for longer distances. This trail system has something for everyone – easier doubletrack on Green Mountain Trail or my personal favorite, flowy downhill with sharp switchbacks on Rooney Valley Trail.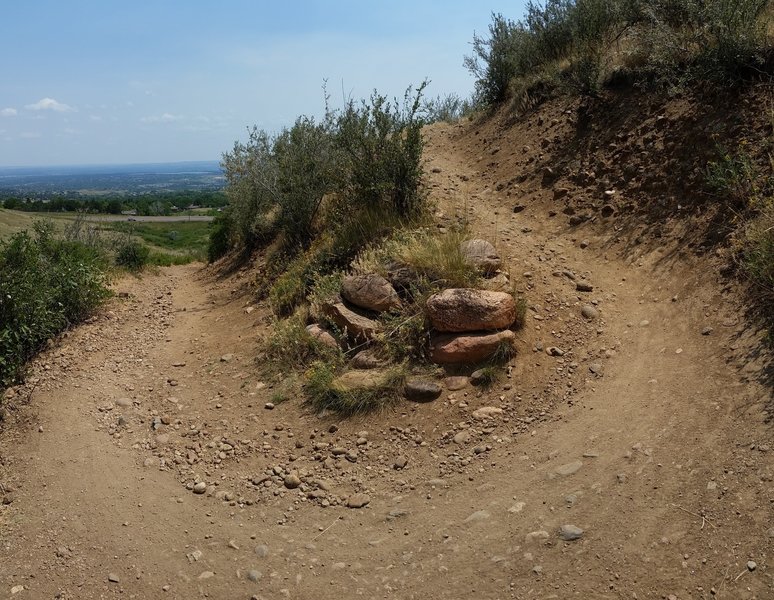 Photo credit: https://www.mtbproject.com/photo/7027047
SARAH
Trail system: Greenbelt Plateau
MTB project: Greenbelt Plateau Mountain
Location: Boulder, CO
Length: 12-15 miles
Why is it Sarah's favorite fall mountain biking trail?
This trail is super cruisey with some technical spots. On the north side of the trail you get an amazing view of Boulder while ripping on a flat dirt path. The trail does eventually turn into a single track and can keep the interest of even advanced riders. I prefer this trail because it is so fun and easy to just fly through. It's also rideable almost year round.
Sarah even provided us with a video, thanks Sarah!
Already hit all these trails this year? Already hit all these trails this year? Here are more staff favorites. You could also add: Need a repair or looking to gear up before your ride? Learn about our products, services and nonprofit mission. [Learn More]